With so much emphasis being placed on improving our fitness these days, more people are taking an interest in activity, or adventure type holidays. Trekking is one of those areas attracting a great deal of interest from young and old alike.
Trekking the Wadi Rum
Trekking through the Wadi Rum Desert does require at least moderate fitness. That said, for anyone who spends a few weekends in the UK, trekking the Lake District, or the moors on a regular basis, it should not prove a problem.
It is not hard slogging, who wants that in a desert? You will be walking around five hours a day and covering about three miles. Remember though, daytime temperatures can reach 30 degrees centigrade, so a decent sun hat, plenty of sun block, and adequate drinking water will be required.
The First Day
Flying into Amman, you will be met at the airport by your tour representative and escorted to the bus for your journey to the hotel. There, you will meet up with others who will be joining your trekking group.
Day Two
An early up around 0700, and on the bus for a 3.5-hour drive at 0830. With a comfort stop on the Desert Highway, eventually your coach drops off the road and you will descend into the Wadi Rum reserve. The view is like something you have never seen before. Everything is a terracotta colour. The desert floor and large rock formations seem more suited to a lunar landscape.
With entry tickets sorted, a further short drive and you will arrive at a Bedouin village where you meet your crew and guides, and break for lunch. Eating in a large, decorated hall Bedouin style, will begin to inject a feeling of excitement and apprehension of what is to come.
After lunch, a couple of hours of exploration are organised, before climbing into the waiting trucks, for the final leg to your first overnight stay in the desert. With tents already erected, a supper of soup, vegetables, chicken, and salad will be served under the stars.
The Daily Routine
After an early breakfast, the real trekking begins. Sites such as Jebel Burdah will be reached after a couple of hours walking. Climb some not too difficult, rockwork, if you want to cross the Burdah Bridge, before returning to camp for lunch. After lunch, another couple of hours trekking before the trucks meet you for the drive to your next overnight stop.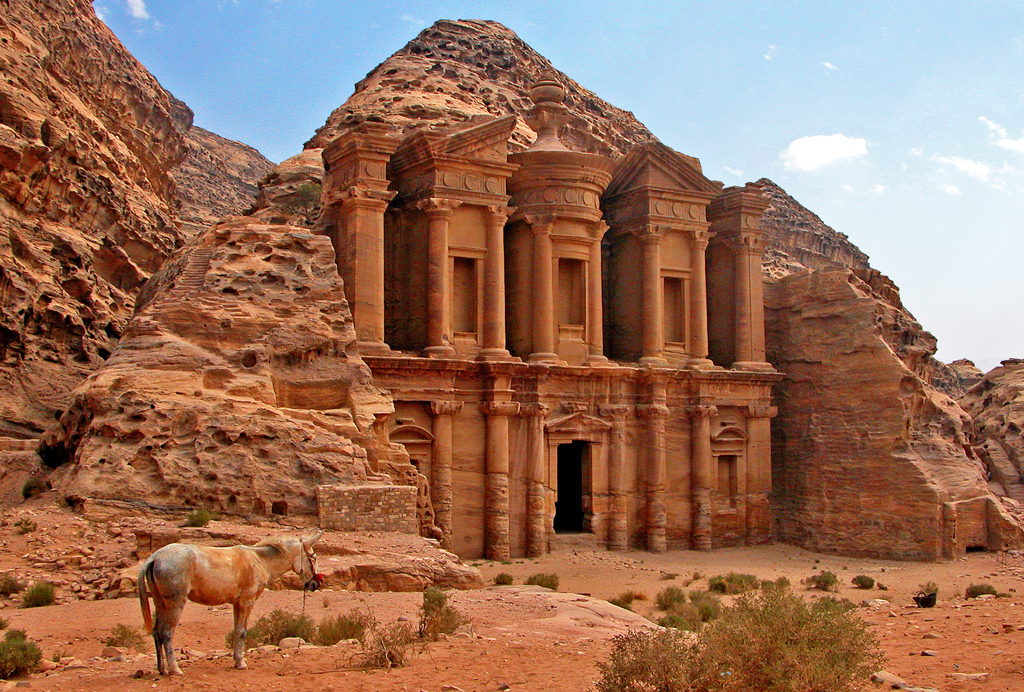 The City of Petra
Each day will continue in a similar vein, working your way across the desert, until eventually arriving at the stunning UNESCO World Heritage site of the city of Petra. Suddenly, having spent a week with a small group, you are surrounded by hundreds of other tourists. The Treasury is one of the first places you will see, and its size and splendour is mind blowing.
Visit the amphitheatre, and the High Place of Sacrifice (if you can do the 500 steps), while you explore the city. But you must, if your itinerary allows, experience the city of Petra by night. Lit only by candles placed every metre or so, the atmosphere and tranquillity of the occasion, is something most of us rarely experience.
Image credit: Dave Lichterman, Dennis Jarvis