The Spanish region of Andalucía is perhaps best known for the Costa del Sol and its resorts of Malaga, Fuengirola and Marbella, but there is more to Spain's southernmost tip than hi-rise hotels and full English breakfasts. Look a little beyond the tourist traps and you'll find an unspoilt region of ancient mountain villages, beautiful national parks, and – of course – breath-taking beaches.
Costa Tropical
To the east of the busy Costa del Sol lays the less well-known Costa Tropical in the province of Granada. Here, the mountains of the Sierra Nevada meet the Mediterranean, with dramatic rocky coasts and hundreds of quiet sandy coves. As the terrain is not well suited to urban development, the Costa Tropical is a world removed from the bustle and crowds of its more famous neighbour. There are several larger beaches lined with palm trees and small beach bars, but the real joy of this coast is in getting away from it all with a cove all to yourself, wiling away the days with relaxing sunbathing and spectacular snorkelling in the crystal-clear blue seas.
Costa del Sol
The Costa del Sol is by far the most developed part of the Andalucian coast, with dozens of large beaches offering all the facilities you could want, from showers to sun loungers, pedalo hire to lifeguards. While the busy atmosphere might not suit everyone, you can be sure of finding plenty of great local and international food, and varied nightlife after a long day on the beach. Even in this province there are unspoilt gems – try the Playa de Maro just east of Nerja, voted the best beach in Andalucía in an Antenna 3 poll in 2013. Set in a secluded rocky cove, it boasts clear waters with an abundance of fish, and a sheltered location ideal for swimming in the calm, warm currents.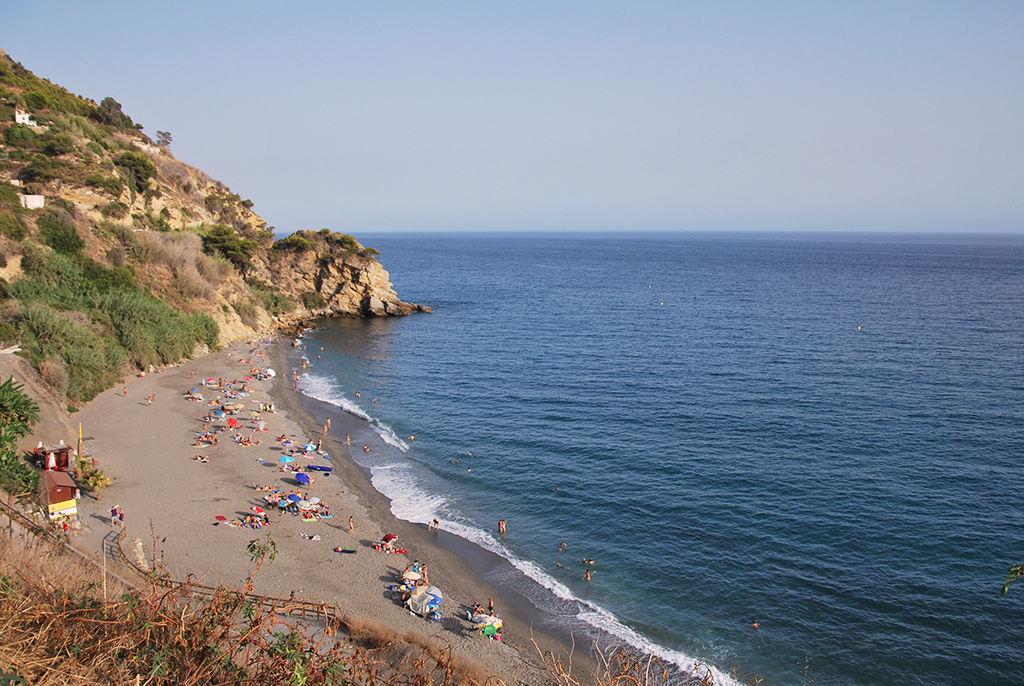 Costa de la Luz
Continuing to the west past Gibraltar, the Costa de la Luz is the real highlight of Andalucía for beach lovers. The miles of sandy beaches sloping gently into the Atlantic offer a real contrast to the rockier Mediterranean coasts. Expect to find white sands separating pine forests from the turquoise sea, unchanged fishing villages, and beachside bars serving the freshest seafood and the coldest local wines. This area isn't highly developed and is a great favourite with Spaniards in the know.
The Atlantic breezes mean the temperature is a little less fierce than its southern Spanish neighbours, and many beaches offer great windsurfing opportunities. If you're looking for a day away from the beach, the province of Cadiz boasts several protected national parks full of stunning scenery and wildlife.
Whether you are looking for long quiet days relaxing on secluded beaches or somewhere a bit busier with all the facilities and entertainment you could ask for, the Costas of Andalucía will have a beach to fit the bill.
Image credit: Ashley Buttle, Marcos Castellano