The UK is renowned for its unpredictable, wet weather but if you are prepared for it your holiday will be fantastic. There is nothing better than going for a walk along one of Devon's stunning coastal paths, woodlands or bridleways and finding a hidden, traditional pub for lunch/dinner where you can nestle in the corner next to the open log fire with a glass of mulled wine to warm yourself with. Or spend a night in at your Devon holiday cottage with a glass of wine, wood burner and a good film/book. Here are 4 essential items you shouldn't leave out of your suitcase for your holiday in Devon.
Good waterproofs
A good waterproof jacket and trousers aren't the best-looking accessories in the world but they are great at keeping you dry and warm all day long. If you plan on spending your holiday outside exploring the countryside then this ensemble will ensure you wouldn't be drenched through to your skin. Waterproofs are also good if you want to go out for lunch halfway round your walk or for getting in your car. All you have to do is take off your waterproof outer layers to reveal clean, dry clothing that you will be comfortable eating food and sitting in your car in. There is nothing worse or colder than sitting in wet clothing.
Good footwear
Wet weather brings mud and slippery surfaces, but have no fear, sensible footwear is your answer! Pair of walking boots is a must if you are planning on walking the coastal paths, these paths can get quite slippery if it has rained recently. Walking boots are also good at keeping the water way from your feet because wet socks can cause blisters and rubs, which will make the rest of your walk and holiday quite uncomfortable.
Useful accessories & makeup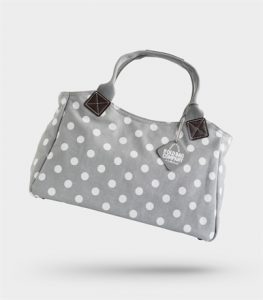 A waterproof, stylish and easy-to-clean oilcloth handbag is essential for travelling because these versatile bags not only look good, but you can take them everywhere from a day of mooching around the shops to dinner in the evening.
Whether the weather is rainy or windy, waterproof makeup is essential if you wear makeup or within 3minutes of being exposed to the elements you will have streaks. The best suggestion would be not to wear makeup at all outside and to wait until you are your destination before you apply any makeup if you need it.
Layers
Multiple layers of clothing is a great way on ensuring you have enough clothes on and enables you to remove layers if you get too hot. It is very frustrating if you aren't able to take your jumper off because you only have a t-shirt on underneath. A well-fitted thermal top can often suffice as your main layer as they will ensure your core body will stay warm.
A holiday in Devon this winter needn't be a worry nor should you let the elements dictate what you do. Preparation is the key for getting the most out of your holiday no matter the weather. If the weather is looking awful then there is a wide selection of indoor Devon attractions for everyone, from cookery classes to family attractions.
Article written by Naomi Stevens from The Old Bag Company, a Devon-based award-winning bag company, who love all things to do with Devon.